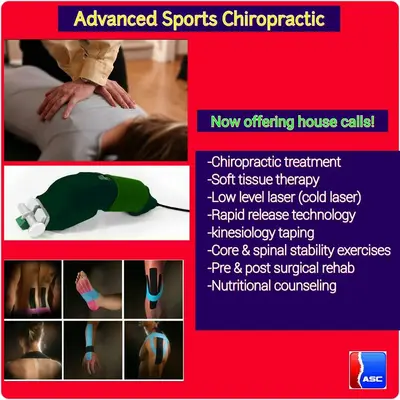 Do you need Chiropractic treatment but don't have time to visit the office during regular business hours?
Do you prefer Chiropractic treatment in the privacy of your own home?
Are you in too much pain to leave your home?
Dr. Amir Mahmud will bring his expertise and personalized style of chiropractic care to you in the privacy, convenience, and comfort of your own home.
The doctor is fully equipped to perform any service you would find in a normal office setting, rendering amazing results.
Services include:
Spinal manipulative therapy
Soft tissue therapy
Rapid Release Technology
Low Level Laser (Cold laser) - Utilized for pain control and reduction of inflammation
Functional assessment
Kinesiology taping
Electrical muscle stimulation
Strength and rehabilitation
Diet & lifestyle coaching
Ergonomics and ergonomic coaching
Injury prevention
Postural assessment
What to expect?
If this is your first visit, the doctor will evaluate your health history and give you a full examination. Once the diagnosis is rendered, your personalized treatment will begin.
If you are looking for a House Call Chiropractor or Emergency Chiropractor call our office line at (818) 571-6717 to schedule an appointment.